The proposed CMS Home Health Prospective Payment System Rate Update was released on Friday, June 30th in advance of the official posting to the Federal Register on July 10th. CMS is proposing an overall 2.2% rate cut that includes a market basket increase of 3.0% (less a productivity adjustment of .3%) along with a 5.65% cut due to permanent behavioral adjustments in switching from PPS to PDGM. Since the CY 2023 rulemaking reflected only half of the permanent behavioral cuts (using data from CY 2020 and CY 2021), CMS is proposing to implement the second half of the CY 2023 cut along with another 1.51% to account for behavioral changes recognized in CY 2022.
Short term, this is good news since they did not propose any "Claw Back" temporary rate cuts from the first three years of the PDGM transition. However, it does kick the can down the road. CMS noted, "Given that the magnitude of both the temporary and permanent adjustments for CY 2024 rate setting may result in a significant reduction of the payment rate, we are not proposing to take the temporary adjustment in CY 2024." Based on CMS data, the temporary adjustments total $3.44 billion.
CMS is proposing a number of changes to the Home Health Quality Reporting Program (HH QRP). Two measures will be added in CY 2025:
COVID-19 Vaccine: Percent of Patients Who Are Up to Date
Functional Discharge Score
The Functional Discharge score will look at the Improvement in Self-Care and Mobility function by comparing the GG OASIS scores at admission to achieving an expected level of function at discharge. Note the term "expected". This is based on a risk adjustment methodology using patient characteristics on a patients' predicted level to improve.
CMS is also proposing to remove Application of Percent of Long-Term Care Hospital Patients with an Admission and Discharge Functional Assessment and a Care Plan That Addresses Function, mainly due to scores being topped out and since the new Functional Discharge score will provide more insight to desired patient functional outcomes.
Currently, there is no OASIS-E data to score the COVID process measure. CMS notes that the OASIS will need to be updated (hello OASIS-E1) as well as to remove two OASIS items, M0110 – Episode Timing and M2220 - Therapy Needs, effective January 1, 2025 since they are no longer used in payment, survey or care planning. Another change will be based on a new proposal whereby HHAs would no longer be required to report Self-Care Discharge Goals (GG0130, Column 2) and Mobility Discharge Goals (GG0170, Column 2) on the OASIS, beginning with patients admitted on or after April 1, 2024.
There were a number of proposals relating to the Expanded Home Health Value-Based Purchasing (HHVBP) model with changes planned for the start of performance year 2025. Five measures will be removed and three others added to this program.
Affected Measures
Measures Deleted
Measures Added
TNC Change in Mobility
TNC Change in Self-Care
Discharged to Community (OASIS-Based)
60-Day Acute Care
Hospitalizations
Emergency Dept Use without Hospitalization
Discharge to Community (Claims-Based)
Functional Discharge
Potentially Preventable Hospitalization (PPH)
CMS is also proposing a change to the measure weightings within the OASIS and Claims categories. While CMS plans to keep the overall category weightings the same (OASIS-35%, Claims-35%, HHCAHPS-30%), the new Discharge Function Score will account for 20% of the Total Performance Scores (TPS) and the PPH score will account for 26% (See CMS chart below). They also plan to change the baseline year from CY 2022 to CY 2023 with the start of performance year CY 2025. We expected some changes to HHVBP, but this is significant given it is just the start of the third year of the Expanded Model.
Proposed Redistributions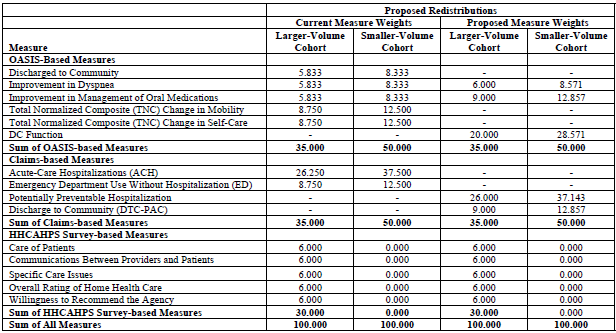 Although the new PPH measure will be publicly reported this fall, having an extra year before it will impact your TPS score will be helpful. SHP began to report on this measure in May 2023, but given that some of the underlying OASIS and clinical items required to accurately replicate this measure are optional, it will be important for agencies to work with their EMR vendors to make sure that they can be recorded properly. With the new PPH measure replacing the 60-day ACH and ED Use w/o Hospitalization, I wonder how much longer Star Ratings will continue to use the 60-day ACH measure. It will be something to keep an eye on.
CMS noted in the FY 2024 Hospice Proposed Rule to expect an update to the Special Focus Program (SFP) in this rule. CMS provided 25 of the 392 pages in the rule to highlight the way they plan to identify the lowest performing Hospices that would be subject to this program. There is a lot to unpack in this SFP proposal and we will share some insights in another upcoming blog.