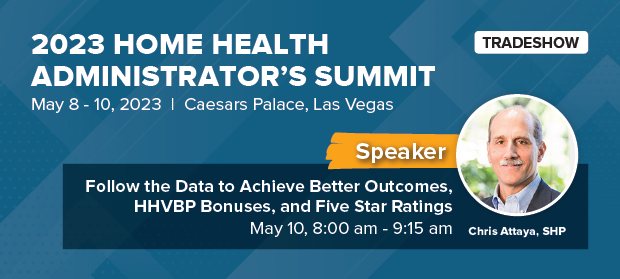 Mark your calendar to attend "Follow the Data to Achieve Better Outcomes, HHVBP Bonuses, and Five-Star Ratings" Presented by Chris Attaya, SHP VP of Product Strategy.
SHP for Agencies is a performance improvement program that has been used by nearly 5,000 agencies nationwide—from single site organizations with a few patients to top national chains serving millions of patients every year.
SHP for Agencies fuels your performance with:
Real-time, customizable dashboard for a complete picture of your organization's health.
Immediate identification of OASIS errors to fix issues that impact reimbursement and hurt public scorecards.
Real-time identification of patients at risk for hospital readmissions, falls and other adverse events.
The largest real-time Risk Adjusted Home Health Compare benchmark in the industry.
Unique drilldowns allow for deeper inspection at the individual patient, clinician, and team level.
Fully automated HHCAHPS integration with direct links between surveys and individual clinicians.
Our program is an easy-to-use solution that provides actionable data for every level of the organization - from executive to clinician to quality and coding staff.