SHPBest CAHPS Hospice Award
The annual SHPBest™ program was created to acknowledge hospice providers that consistently provide high quality service to families and caregivers of patients receiving hospice care. With one of the largest CAHPS Hospice benchmarks in the nation, SHP is in a unique position to identify and recognize organizations that have made family and caregiver satisfaction a priority and have been rewarded for their efforts with high marks on the CAHPS Hospice survey.
SHPBest award recipients are determined by ranking the overall score for all SHP CAHPS Hospice clients. The provider with the best Overall Score in the SHP database receives the Best-of-the-Best Award. Providers that rank in the top 5% receive the Premier Performer award. Providers that rank in the top 20% receive the Superior Performer award. In addition, all award recipients must have scored better than or equal to the SHP national average for the period for each of the 8 publicly reported domains.
CAHPS Best-of-the-Best
The award for the hospice provider with the best Overall Score in the 2022 calendar year goes to: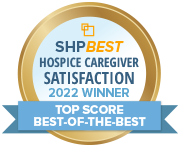 In Home Health, LLC
(Decatur, GA)
Congratulations on this outstanding achievement!
Consistent Excellence
We have the privilege of shining the spotlight on providers that have received an SHPBest™ award for five years in a row. The ability to sustain such a high level of quality over an extended period of time is truly a remarkable and noteworthy accomplishment!
| Provider | State |
| --- | --- |
| Caris Healthcare - Memphis - Milan | Bartlett, TN |
| Commonwealth Hospice - Danville | Danville, VA |
| Hancock Regional Hospice | Greenfield, IN |
| Heart of Hospice - Lake Charles | Lake Charles, LA |
| Heartlite Hospice - Scottsboro | Scottsboro, AL |
| Hospice of Health First, Inc. | West Melbourne, FL |
| Tanner Home Health Services - Hospice | Carrollton, GA |
| West Virginia Hospice - Buckhannon | Buckhannon, WV |
Please use the link below to download the 2022 SHPBest™ CAHPS Award Recipient List and see the full list of award winners for the last calendar year.
Learn more about the 2022 SHPBest CAHPS Hospice Award Program Methodology.
View the 2022 SHPBest CAHPS Hospice Award Recipient List.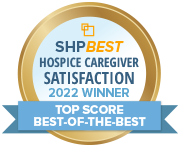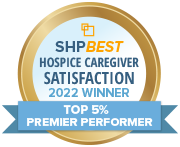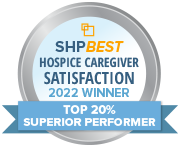 SHPBest past winners and methodology
Curious how SHP for CAHPS Hospice can help your hospice shine against the competition?