OASIS-D1 to OASIS-E Crosswalk Guide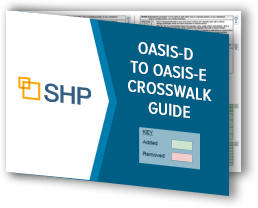 With the OASIS-E assessment form going into effect on January 1st, 2023, SHP is pleased to provide home health agencies with a complete side-by-side comparison of the OASIS-D1 and expected OASIS-E assessment forms. Items that have been added or removed between the two OASIS versions are indicated with color coding.
This document includes all items recorded at start of care (SOC), resumption of care (ROC), follow-up (FU), transfer (TRF), discharge (DC), and death at home (DAH). A box next to each item lists the assessment reasons for which the item is recorded, with (o) indicating an optional item.
We recommend printing copies for your staff to aid in the transition to OASIS-E and beyond.
This guide is an excellent reference for anyone who works with OASIS Assessments and will improve accuracy, help reduce coding errors, and potentially reduce the number of returned claims.
The new items that will be introduced in OASIS-E include:
A1005: Ethnicity
A1010: Race
A1110: Language
A1250: Transportation
A2120: Provision of Current Reconciled Medication List to Subsequent Provider at Transfer
A2121: Provision of Current Reconciled Medication List to Subsequent Provider at Discharge
A2122: Route of Current Reconciled Medication List Transmission to Subsequent Provider
A2123: Provision of Current Reconciled Medication List to Patient at Discharge
A2124: Route of Current Reconciled Medication List Transmission to Patient
B0200: Hearing
B1000: Vision
B1300: Health Literacy
C0100: BIMS: Should Brief Interview for Mental Status (C0200-C0500) be Conducted?
C0200: BIMS: Repetition of Three Words
C0300: BIMS: Temporal Orientation
C0400: BIMS: Recall
C0500: BIMS: Summary Score
C1310: Signs and Symptoms of Delirium (from CAM©)
D0150: Patient Mood Interview (PHQ-2 to 9)
D0160: Total Severity Score
D0700: Social Isolation
J0510: Pain Effect on Sleep
J0520: Pain Interference with Therapy Activities
J0530: Pain Interference with Day-to-Day Activities
K0520: Nutritional Approaches
N0415: High-Risk Drug Classes: Use and Indication
O0110: Special Treatments, Procedures, and Programs